Finally, flight booking is even faster than a flight.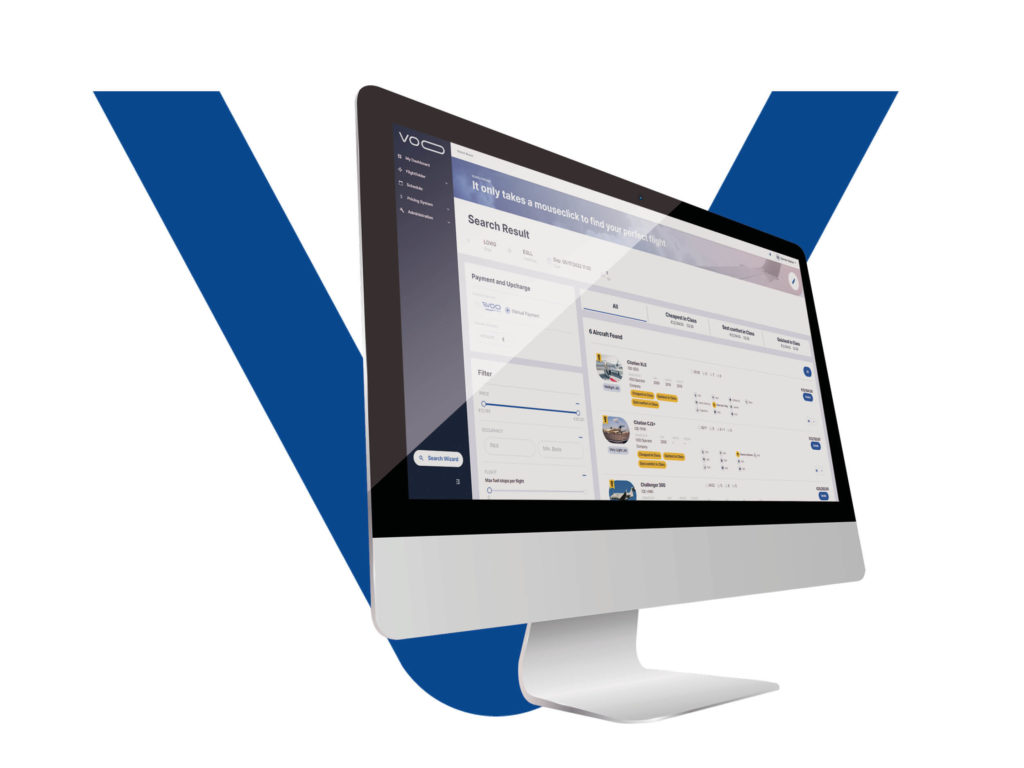 VOO is the first digital B2B marketplace for private jet travel – search, book, manage and pay for your private jet flights directly.
Marketplace
"Booking a private jet should be as easy as booking a home with AirBnB."
Kenny Dichter, CEO & Founder of Wheels Up
FLEET IN THE AIR.




COSTS DOWN TO EARTH.



So, what´s new for you?
With VOO, your everyday processes will be much faster and far more efficient. VOO offers your fair, fixed and comparable prices for each jet listed on the platform. Thanks to VOO, you will have more time at your disposal for marketing and sales and, most importantly, to devote to your clients. VOO prepays your flight on your behalf and grants you a payment period to repay costs.

There is only ONE digital marketplace for your entire fleet.
GET MORE INFORMATION
HOW MUCH MONEY WILL YOU SAVE,
IF YOU SAVE … 1 HOUR?
SAY … EVERY 5 MINUTES?
So, what´s new for you?
With VOO, you will have no more dead requests and far more firm bookings. VOO guarantees you a first class presence on the platform. Your aircraft utilization will improve and your turnover grow, your costs will sink and your margins will rise. VOO prepays your flight on behalf of the broker and assumes the risk of non-payment. Thanks to VOOpay, your payment is secured.
There is only ONE digital marketplace for your chartering management.
Get more information
VOO IN A NUTSHELL
VOO is the first digital B2B marketplace to search, book, pay and manage your private jet flights.

All your bookings are displayed on just one page.
Countless phone calls? Tons of e-mails? A thing of the past!

No more dead requests – only firm bookings.

It`s real. But doesn´t it sound like a dream come true?
Get more information about the features
442,981
The phrase "lines of code" (LOC) is a metric generally used to evaluate a software program or codebase according to its size. It is a general identifier taken by adding up the number of lines of code used to write a program.
31
What is a sprint in simple words? It`s a short, time-boxed period, in VOOcase two weeks, when a scrum team works to complete a set amount of work. The VOOcrew has all sprints till MVP go live done.
949
Story points are units of measure for expressing an estimate of the overall effort required to fully implement a product backlog item or any other piece of work. Teams assign story points relative to work complexity, the amount of work, and risk or uncertainly.
385
A user story is an informal, general explanation of a software feature written from the perspective of the end user. Its purpose is to articulate how a software feature will provide value to the customer.
THE MOVING TEAM BEHIND THE SCENE
VOO was developed entirely in Austria and is 100% an Austrian company, founded in 2020 by five specialists with the aim to go and revolutionize the Business Aviation.
MEET THE TEAM
LOOKING FOR A NEW CHALLENGE?
#VOOjobs
JOIN OUR COMMUNITY
Get the latest updates and most exciting news. Subscribe to our NEWSLETTER.